The Right Way
For most of us, spring also means the time when we turn our houses inside and out and rage a ferocious battle against dust and clutter. From this sartorial battle, some emerge victorious while some becomes defeated with fatigue and confusion. If you're one of the latter, here are a few tips for you to do Spring-cleaning right.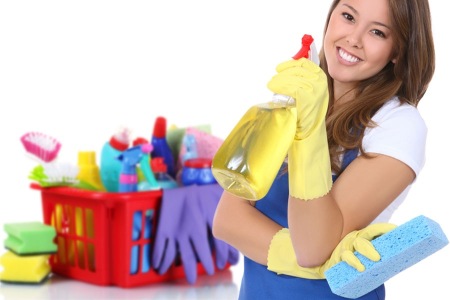 Get Help
There are some things in life that you cannot face along, and Spring-Cleaning is one of them. Get the family together and make a plan. Decide on 'who does what' and 'what goes where'. Make a checklist for each of your family members and see if at the end of the day everything is checked off. If you got toddlers or babies at home, best is to keep them away from the house at grannie's or grandpa's, as all that dust could result in troublesome colds. If you're flatting it with your buddies, no problem, play your favourite music and order some pizza to enjoy while cleaning. And if you're staying all by yourself, no worries, there are plenty of places offering house cleaning services at affordable prices, so you could save the trouble yourself.
Let It Go
Those childhood books that you're too grown up to read now? Give them away to kids who will really appreciate it. Shoes and clothes that don't fit anymore? Donate them at a charity bin. Getting rid of clutter is one of the most important things when it comes to Spring-Cleaning, as you don't want unnecessary objects taking up precious space, for another year. Garage sales are an amazing way to get rid of clutter and make some money at the same time. However, don't throw everything out! Before you move anything to the 'rubbish pile' ask yourself these three questions,
• Did I use this during last year?
• Is there a realistic plan to use this?
• Does this fit me or my house?
If the answer to all three is NO, then it has to GO!
Plan It Out
Spring-Cleaning is an art. Master it and you would be living in a happy, clean, tidy house. Plan your session of house cleaning properly and schedule at least a minimum of one day dedicated to just cleaning. When you have other appointments, you can't give your complete attention and energy to making sure your house is 100% spring ready. Start at the top of the house and work your way down. And maintain an order of cleaning, first dust, then clean and finally vacuum.